Featured Video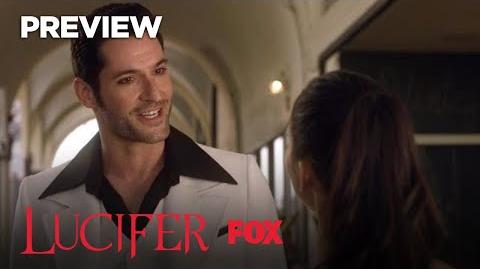 more videos...
Episodes

Previous Episode
"The Sin Bin"




With the Sinnerman in custody, Lucifer is prepared to go to any length to get his devil face back. But, with another victim's life on the line, will Lucifer's conscience hinder or help? Meanwhile, Trixie is introduced to Charlotte and questions the relationship she has with her father.






READ MORE

Next Episode
"City of Angels?"




In a flashback episode that takes place when Lucifer first came to LA, Amenadiel comes to retrieve his fallen brother, but is shocked when he is mugged. Amenadiel enlists Lucifer's help to track down the mugger and Lucifer, in turn, offers his assistance - but only in exchange for a favor. Meanwhile, Chloe and Dan - who are still married - investigate the murder of an MMA fighter, Aidan Scott, at the hands of the same killer who mugged Amenadiel.

READ MORE
Ad blocker interference detected!
Wikia is a free-to-use site that makes money from advertising. We have a modified experience for viewers using ad blockers

Wikia is not accessible if you've made further modifications. Remove the custom ad blocker rule(s) and the page will load as expected.